In the next year, global B2C eCommerce sales are expected to reach 1.92 trillion U.S. dollars. This is a projected increase of over 80% in just 4 years, meaning if you are not online you are missing out on a big piece of that pie.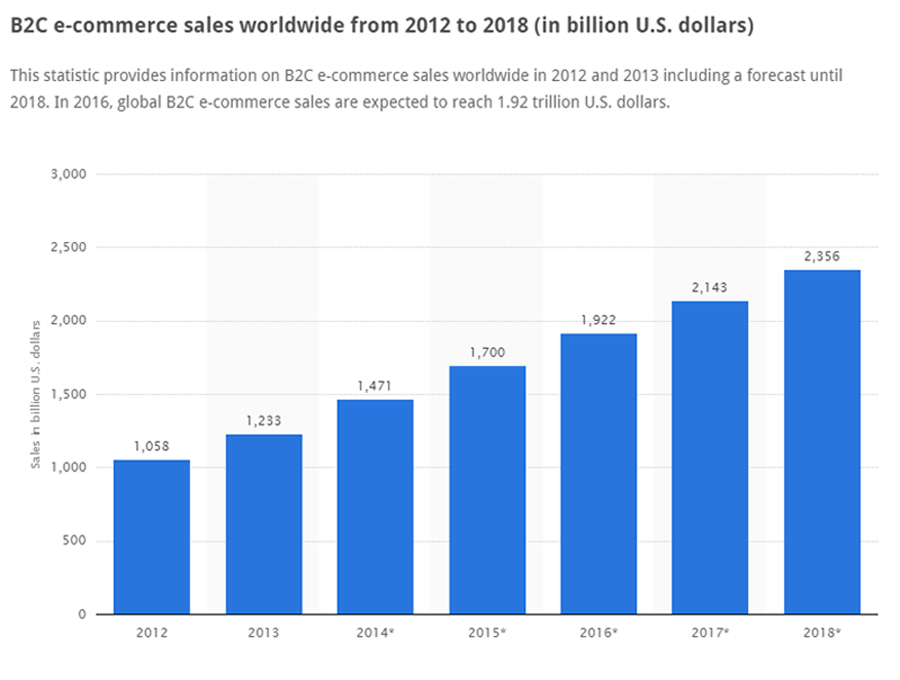 But where do you start? You have to step into the unknown territory of eCommerce platforms.
Now lets see which are popular eCommerce platforms out there!
According to Aheadworks, Magento is the most popular eCommerce platform with 25.6% total market share compared with the second most popular, WooCommerce at 20.8%.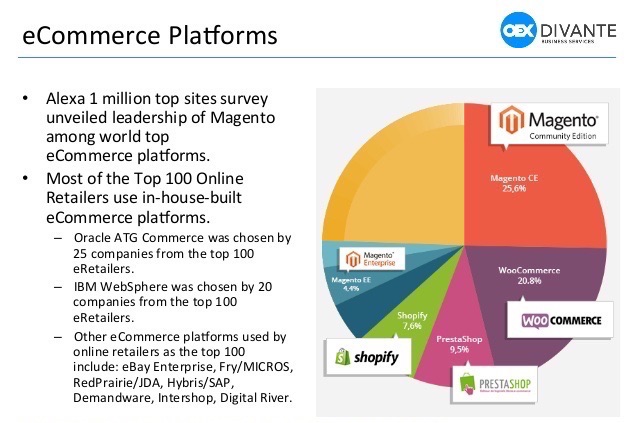 For more info on all the eCommerce platforms out there, check out this SlideShare on the 'Most Popular eCommerce Platforms'.
Keep in mind, a common mistake that is made is thinking that one eCommerce platform fits all. Popularity doesn't necessarily mean that you are getting the right tools for your business.
Here are a few things to consider before making a move:
Firstly, we can break eCommerce platforms in to two categories: Hosted (Shopify) and Self-Hosted (Magento and Woo Commerce). Hosted means the platform will host your online store i.e they will save your store on their server so that it can be accessed over the Internet. While self-hosted means they will provide you with software but you will have to purchase your own web hosting.
What size is your business? An eCommerce platform like Shopify has a simple interface and quick setup which will make it a good choice for small/medium online stores whereas Magento's power and customization makes it perfect for larger businesses.
How much of your eCommerce platform would you like to customize? If your business is complex or has uncommon requirements then you need your eCommerce platform to be customizable. Platforms that are customizable like Magento and WooCommerce, have the advantage of being open source. On the other hand, Shopify only offer built-in features and have limited customization outside of their add-on market.
Can additional software help to streamline your business?
While researching into eCommerce platforms it is also a good time to look into additional software which will help streamline your business. Considerations like cloud-accounting and inventory systems will help with this and it is important to make sure certain systems integrate with the eCommerce platform of choice. This is to avoid double data entry and margin for human error.
For now Let's focus on the #1 eCommerce platform; Magento. Here are 3 reasons that make it an Enterprise Class platform and why you should consider it: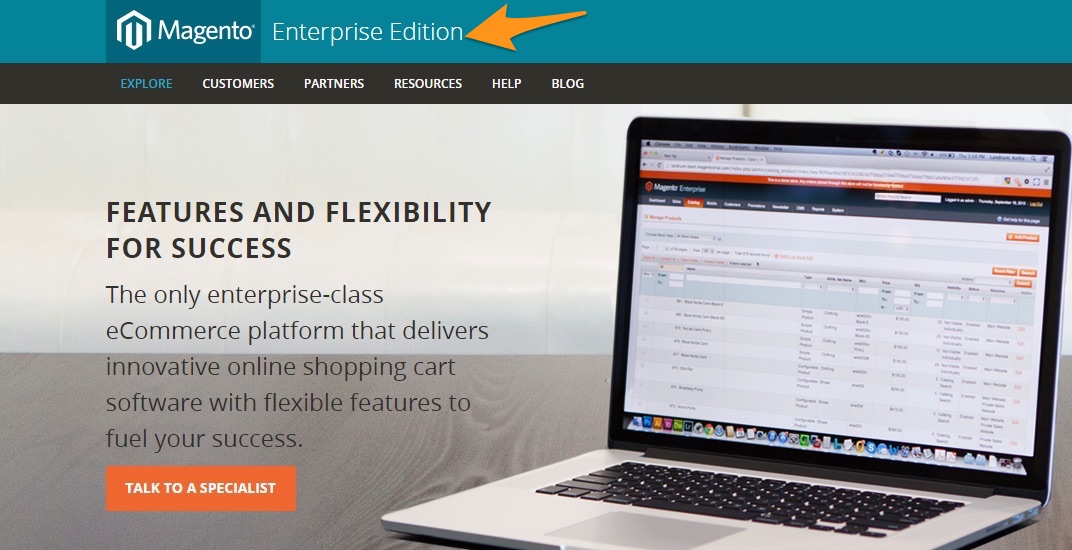 1. Magento is Open Source.
Even though Magento is packed with features out of the box, it is also an open source platform, meaning features can be developed on top of the default framework. This is a huge benefit if you require greater flexibility than an out of the box proprietary solution. According to this Slideshare made by ClickThrough, Magento has the edge over other eCommerce platforms because it has full customization, including core files and classes. So it's perfect for those with grand plans or for an existing successful online store. Unlike a normal SaaS products, Magento is more like a blank slate. Just about anything is possible with Magento with enough time and money.
Its fair to say that other systems do have API's and allow plugins but none allow the same customization as Magento. This includes backend interface changes, scheduled actions, extremely customizable designs, all of which may be required for specific enterprise marketing strategies or work flows.
On a side note, if you are a fashion retailer it seems that Magento have built an Enterprise Edition designed specifically for the fashion industry: Enterprise Edition for Fashion.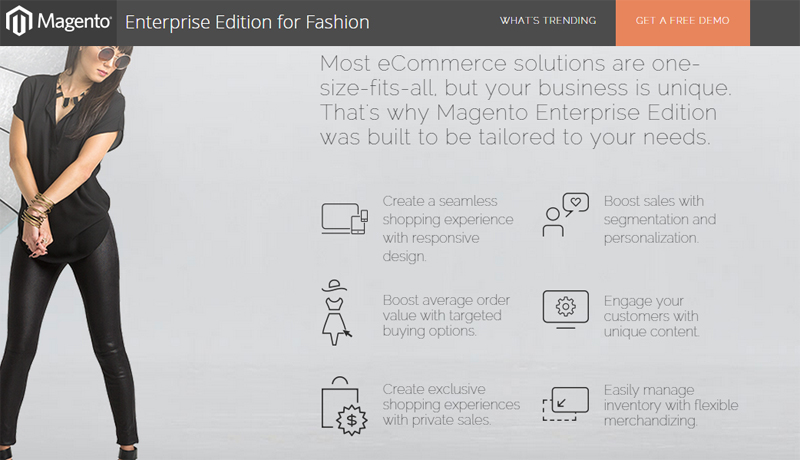 2. Magento has a strong global development community.
At it's core Magento is strong because it's development communities keep the product relevant. The community continuously makes fixes and plugins, acting as a natural partner program for the open Magento platform and reduces the risk of Magento no longer being supported. Again, this is the benefit of Magento offering an open-source product. It means developers are not restricted to what they can and cannot do in the system, which ultimately builds a much stronger offering.
3. Magento can scale with your business
With Magento being such a robust platform, it has been built for scale. It can handle thousands of SKUs and has the flexibility to be designed in a way which can help you stand out from your competitors.
This is compared to out of the box solutions which you may outgrow or get frustrated with due to the lack of flexibility. This will mean major hassles and costs trying to switch eCommerce platforms.
But keep in mind:
While Magento is very flexible it is more complex than entry level eCommerce platforms. The reason for the complexity: it is not a SaaS solution which is cloud hosted. It requires your own web hosting platform and technical expertise to install and modify the open source code. This nearly always requires a developer or tech savvy person to implement, which also means a greater cost to implement and develop.
In summary, when choosing an eCommerce platform you need to look at your priorities and ask yourself a few key questions. Is the platform going to scale with your business? Do you require unique customizable or can work off a template? What is your budget?