Case Study –

Kereru Brewing
The alchemists who found their feet
Chris Mills used to make sparks fly and fog roll in film and television. Being a special effects director was good work, well-paid, and with the maturing of the Internet, Mills could (and did) work anywhere he wanted. His motto was "have dongle, will travel."
But, after eight years in the New Zealand film industry, the expatriate from America was itching for a new challenge.
"I'd had enough of the film industry, or they'd had enough of me, hard to tell which is which," Mills says. "Sitting in a chair, pushing a mouse, it wasn't working out. I needed something different to do."
Mills was a home brewer on the side. The money that he'd made with his life- and business-partner, Natasha Dahlberg, allowed the couple to expand that craft into a viable business. What began as a small commercial kitchen operation bloomed into the 250,000 litre a year producer known today as Kereru Brewing. It turned out to be the right choice for two creative minds breaking boundaries to pursue a long-time passion.
"When I was seven, my mother made a batch of root beer. That was my first experience in fermentation. I thought it was magical," Mills said. "Later I found that home brewing was a very satisfying creative outlet. It was alchemy, it was art, science and all those things combined were pleasing and enjoyable."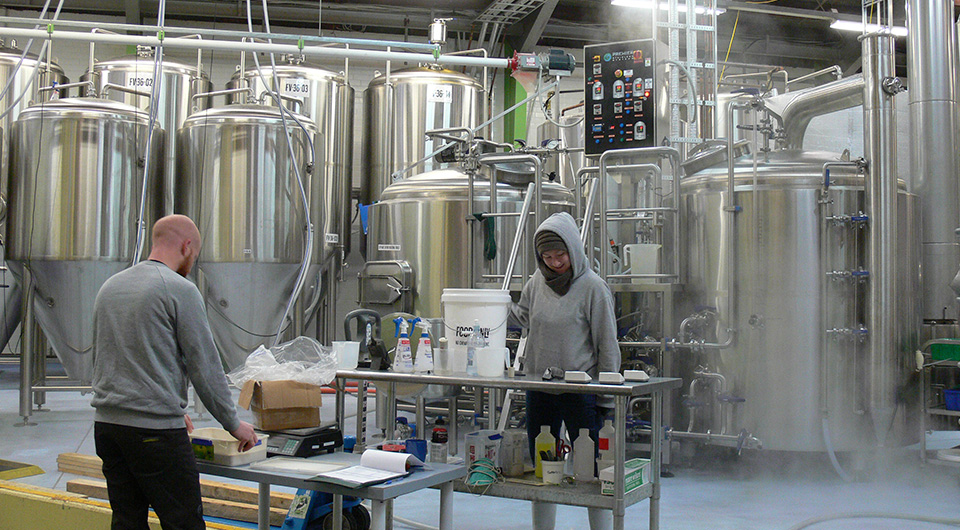 The Growth Factor
Mills and Dahlberg didn't anticipate how quickly they'd catch on after launching in 2010. They spent the first year-and-half perfecting recipes for Kereru's British and European style ales, lager and stout, practicing their sales pitch, and selling at a fortnightly farmer's market near their home in Upper Hutt.
"We discovered that people liked what we were making," Mills said. "People were inclined to buy it more than once, and we could easily trade on our 20-litre kegs."
They realised they needed to expand to be viable. Their kitchen operation topped capacity at 100 litres a week, enough for a select group of outlets, but not enough to prevent the slow erosion of their savings. So, in 2013, they moved into the former Vitafoam factory to become Upper Hutt's first brewery. With two 1800 litre fermenters and a single brite beer carbonation tank, Kereru could produce 18 times the volume per week they'd been making at home.
And Kereru kept growing, from producing 150,000 litres in 2014—70% for third party contractors—to an anticipated 250,000 litres in 2016 all under the Kereru label.
The shift from contract brewing demonstrated Kereru could stand on its own legs, and win. This year alone, Kereru took prizes at the New World Beer & Cider Awards and the Australia International Beer festival.
"That was a fantastic success but it meant we had to produce a certain amount of beer immediately," Mills says.

Enter Cin7
Kereru started 2016 with the capacity to produce large volumes of their signature beers, and the ability to quickly produce beer based on their customers' preferences. But they were flying blind, in a manner of speaking. It had been only 12 months since Mills boned up his accounting skills and engaged an inventory management software package to help the company manage its supply chain.
"We had a recognition that we didn't understand our costs, we didn't know what we were holding in stock, and we weren't able to easily keep track of who our customers were," Mills says. "I also didn't know how to read our own books."
Upskilling helped, but Mills was stuck with an unworkable technology solution.
"We struggled with our previous inventory management package to come to grips with what was going on with our customers," Mills says. "It was a challenge to get the data we needed to make sense of how much we sold to a particular customer, what we sold them. I would have to go and print off the invoices and manually build a document to show the sales history with them. It was beyond a huge waste of time, it was absolutely senseless."
To aggravate matters, Mills had to learn the inventory system on his own, after the original software vendor lost a member of its technical support team, leaving Mills to his own devices.
"I used that for a year because I thought that was all that was available," Mills says.
In February, 2016, Mills spotted an ad for Cin7 and called.
"I was quite pleased with the answers I was getting," Mills says. "I almost didn't believe it because some of the fundamental flaws I was encountering were already addressed, known and incorporated into the Cin7 package."
Cin7's centralised inventory management system let Mills see what he had in stock, what was coming from suppliers and, most importantly for Kereru's growth, who was buying what and where, without the need to manually collate data from hundreds of sales order printouts.
"What Cin7 is helping me to see is where the business is going," Mills says. "What I'm seeing now is which item is selling best, something I didn't have an easy understanding of before, but the Cin7 dashboard shows our top ten selling brands at a glance. It is an enormous help."
Cin7 worked with Mills to understand the Kereru business model.
"The integration team's procedure went a huge way to cement a really solid platform to work from," Mills says.
Mills needed to get a grip of everything from retail stock to wholesale stock conversions to the raw ingredients at the fabrication level. Combined with Cin7's integration with Xero, Mills has found a really effective way to move goods around without a "mind-boggling amount of data" going across to the accounting side.
"Previously there were hundreds of entries a day, making it really painful finding any information from the noise," Mills says.
And if he's ever had a problem, Mills has found Cin7 customer support highly responsive.
"I know who to talk to when I have a Magento issue or a Xero issue," says Mills. "I've just been delighted. The level of support and reply rate that I get is vastly better than what I got with the competitor I was using."
The Future Starts Now
In New Zealand, Kereru sells through scores of supermarkets, independent bottle shops, on-premise bars and restaurants and even on the ferry between Wellington and Picton. The company also sells online, and has a number of retailers in Australia, the US and the UK.
The brewery currently has the capacity to produce as much as 350,000 litres a year and if their customer base grows as it has been, they'll easily meet that goal.
Mills says Kereru would have gotten to that level even using its old inventory management system but, "Not without getting additional staff."
"I don't feel constrained by our inventory management package now," Mills says. "I know that if there's something I don't understand that I can call and get an explanation of how to use it better and I almost invariably come away from a conversation feeling better equipped going forward."