Cin7 performed very well in an evaluation of inventory software solutions. Once again, Software Advice placed Cin7 in the Leader quadrant of its FrontRunners for Inventory Management for September 2017. This time, however, Cin7 achieve the highest score for capability among all evaluated solutions.
What Landed Cin7 in the Leader Quadrant?
Software Advice, a subsidiary of analyst firm Gartner, evaluated 115 inventory management products. However, only the highest-scoring solutions made the cut. Moreover, because Software Advice evaluates products largely on user reviews, our customers fueled Cin7's high ranking, yet again.
"I appreciate our customers' feedback that helped land us in the FrontRunners Leader quadrant again," says Danny Ing, Cin7 Founder and Chief Architect. "That they rank us so highly in value and capability tells me we're on the right track and we've only just begun, really."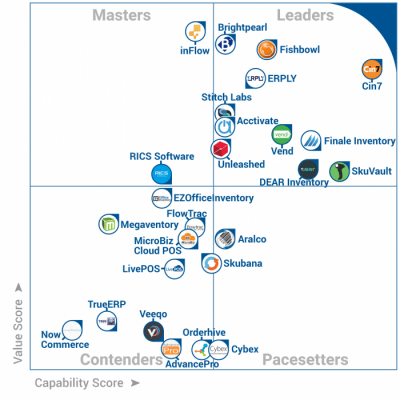 High in Value, Highest Capability
The FrontRunner Quadrant measures a software's capability and value. These numbers come largely from user ratings along with product details, such as feature lists and customer base. On a 1-to-5 scale, FrontRunners gave Cin7 a 4.46 for value, and a 4.44 for capability, the highest capability score this time around. By comparison, Cin7 scored a 3.84 for value and 3.86 for capability in April, the last time Software Advice conducted such an evaluation.
What Makes a Product a Leader?
Evaluation scores determine which quadrant Software Advice places a product in the FrontRunners evaluation. They can be Contenders, Pacesetters, Masters or Leaders. Software describes a Leader as an all-around strong product with a wide range of functionality. Furthermore, its customers find a lot of value in the solution.
On the Road to the Driverless Supply Chain
Cin7 has sought to give customers high value and high functionality from the get-go. First, we offered real-time inventory visibility from production to warehouse to POS. Then, we extended that control with as many integrations as our customers needed to match their particular business structure.
This year, Cin7 entered a new phase of product development. We already started to increase efficiency, reduce manual order processing and fulfillment, and provide more supply chain insight. For example, customers now can set up their online channels to download, route and dispatch orders without human intervention. We expect to automate 95% of all processes by end of 2018. With our "connected intelligence" initiative, we're giving customers more ways to use their sales, stock and other data for better high-level decision-making.
We see these development combine to ultimately give our customers what we call the driverless supply chain. Like its autonomous vehicle analog, it will be automated and intelligent enough let customers respond quickly and efficiently to the changing conditions. It will let our customers live and work they way they want to.
---
Register For a FREE Trial